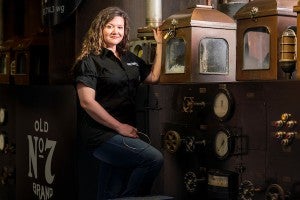 Lexie Phillips was hired as assistant distiller at the Jack Daniel Distillery in 2020. In this role, she uses her full knowledge of distillery history and the whiskey-making process to serve as a collaborator to Master Distiller Chris Fletcher on whiskey innovation. She travels as a brand ambassador to conduct tasting events and brand education, and also conducts in-depth distillery tours for visitors to Lynchburg.
Lexie earned a degree in agricultural science from Middle Tennessee State University. Prior to becoming assistant distiller, Lexie worked in Jack Daniel's quality control and distillery operations, most recently serving as distillery lead operator. One of only a handful of women to have worked as a distillery operator, Lexie hopes to share her passion for whiskey making and inspire interest in future female distillers.
Born and raised just outside of Lynchburg in Estill Springs, TN, Lexie's family has long, deep ties to Lynchburg and the Jack Daniel Distillery. All in all, Lexie has upwards of 20 family members who have worked, or who still work, alongside her at Jack. Her husband, Josh, works as a processor. Lexie and Josh live in Estill Springs with their six dogs and cats – two who go by "Jack." Her favorite way to drink Jack Daniel's is neat, but if it's hot out, she may add a little ice.