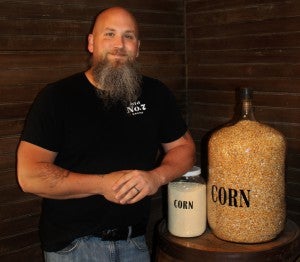 Jed Lirette is Senior Homeplace Ambassador at the Jack Daniel Distillery. Every day looks a little different for Jed, whether he's conducting VIP tastings and barrel selections, leading press tours or participating in a Jack Daniel's commercial. When he's not making friends for the brand in Lynchburg, Jed represents the distillery at events in Nashville and beyond.
Jed was hired as a tour guide for the distillery in 2015. Soon after, he became an official whiskey taster, heading to the quality control lab every Friday morning to sample freshly mellowed new whiskey. In 2019, he was named senior ambassador tour guide.
Before his time at Jack, Jed was enlisted in the U.S. Navy. He served 15 years in numerous IT roles, notably as a senior network engineer for the U.S. Department of Defense. Jed was deployed to the UK, Dubai, Germany, Qatar and Afghanistan during his service.
Jed may no longer have top-secret security clearance, but at Jack Daniel's, he's charged with upholding the values and traditions of a 156-year-old brand he's long admired. Jed's experience as a tour guide – and his curiosity about whiskey making and local lore – has ignited a passion for the brand and the place that he shares with visitors from around the world each day.
A native of Houma, Louisiana, Jed has called the Lynchburg area home since 1985. Jed and his wife Maribeth live in Petersburg, Tennessee and have three children.